Steel slag is the inevitable product of the steelmaking process, steel-producing countries have great importance in the recycling of steel slag , because it not only one of the important measures to protect the environment more turning waste into treasure, improve economic efficiency. Chaeng(Great Wall Machinery) After more than a professional team in cooperation painstaking research carried out vertical roller mill system calculation, equipment selection, calculation, calculate the main parameters, separator computing research and development design of ultra-fine grinding equipment, grinding it set, drying, grading in one, with high grinding efficiency, high drying capacity and other characteristics. To achieve a simplified process, small footprint, low investment, a significant reduction in power consumption, long life, high rate of operation of ultra-fine grinding technology innovation.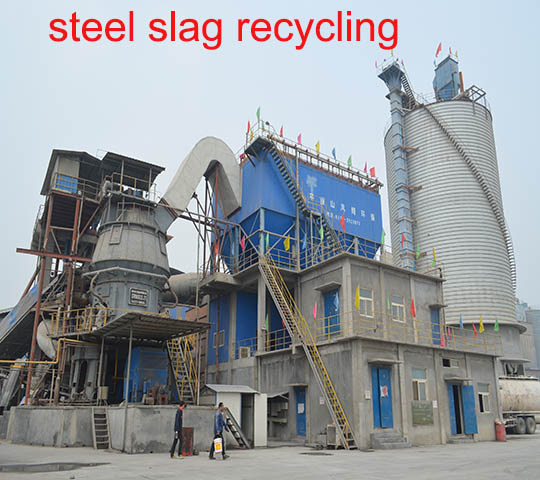 At present, the steel slag powder have been used in a variety of industry, such as:
1. steel slag powder in High Performance Concrete
The amount of slag powder instead of high strength concrete in cementitious materials, and improve the value of the steel slag powder to make slag powder into the high value-added products, increase economic efficiency of enterprises, real steel tailings with high added value applications, vigorously develop the circular economy, after blending while addressing a single ultra-fine slag powder concrete problem of poor work and reduce the cost of production of high strength concrete.
2. steel slag powder applied to green concrete artificial reefs
Artificial reefs is to imitate the function of a natural coral reef fish to nest, not only has the effect of polyethylene fish, but also has significant purify water, recovery of coastal ecosystems. To further reduce the raw material cost of concrete artificial reefs, promote energy conservation. After the study, the successful development of artificial reefs concrete cementitious material almost entirely from steel tailings, slag, gypsum. Of 1% of cement clinker, 99% by the cementitious material superfine slag powder steel slag and gypsum in place, than ordinary concrete artificial reefs more than 90% reduction of CO2.
3. steel slag to transform saline
Most of saline land idle due to lack of long-term technical transformation of land resources is a tremendous waste. Utilization of industrial waste residue comprehensive management of industrial flue gas and the final product for the transformation of saline-alkali wasteland of sand, resolve sulfur dioxide air pollution, waste and utilization of saline, sandy transformation of three worldwide problem of resources - products - - renewable resources recycling mode.