Antecedent Intro
As the important equivalent substitutes for cement production,GGBFS can not only significantly improve the overall performance of cement and concrete, but also significantly reduce the production cost. Now it has been widely used in cement plant, grinding station and steel factories as a new kind of high effectively admixtures. For this situation, we may say: "who first invests will first benefits."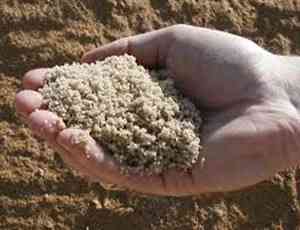 GGBS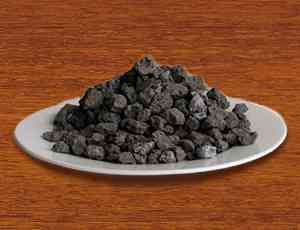 Steel Slag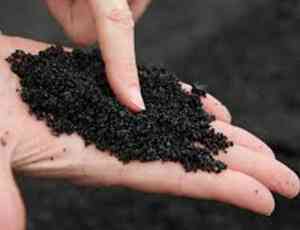 Nickel Slag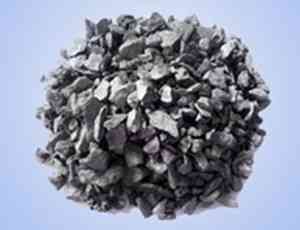 Manganese Slag
Also, Great Wall Machinery has constructed the first 600,000 t/a slag grinding line in this industry, with a waste slag( like blast furnace slag,Steel slag and nickel slag) analysis center .With the rich industry experience and advanced technology, Great Wall Machinery can provide the qualified turnkey service from research report, raw materials analysis, designing, equipment manufacturing, civil construction, installation, test and training.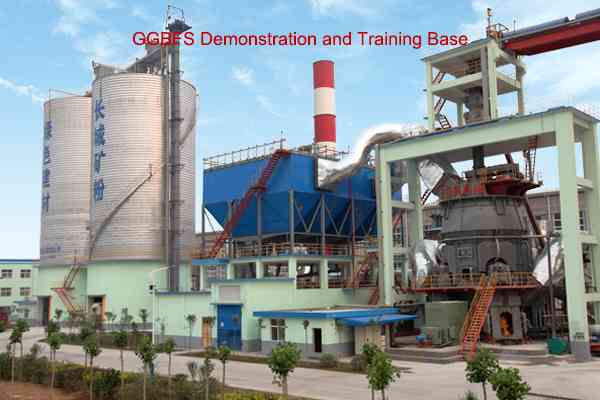 Great Wall Machinery can undertake 20 tons --1.5 million tons of Blast furnace slag/Steel slag/Nickel slag/Manganese slag powder production EPC projects. Up to now, Great Wall Machinery has constructed more than 100 slag grinding production lines at home and abroad.
ROI Analysis
Slag grinding line investment returns analysis
Take our 600,000 t/a slag power production line as an example, the total investment of this project is RMB 50 million. It took into production on April, 2011. Within 2 years, all the investments has returned and now is benefits. The investment details list as below:
Project
Indicator
Practical operation
Start date
Date of start running
April 2011
Investment calculations
Total investment
50 million
Cost calculation
Raw material cost
70YUAN/T
Production costs

(including salaries, electricity, coal, and maintenance management fees, sales charges, and so on)

50 YUAN
Profit calculation
Market sales prices
160 YUAN/T
Tons of profits
40 YUAN/T
Annual profit
40×600,000=24 million
Economic benefits
Within 2 years, all the investments returned (currently in a State of pure profit)
Slag powder quality
Fineness
500 m2/kg
7d Activity index
About 100%
Activity index
Pass GB S95
Suggestions for the equipment selection
Great Wall Machinery already has more than more than 100 customers recently, among them, the capacity of 1 million t/a, 600,000 t/a and 300,000 t/a has occupied more than 80%. Below sheet has show the main equipment specs and parameters of these three capacities.
Product specifications
GRMS53.41
GRMS46.41
GRMS33.31
Annual production(tons)
1,000,000
600,000
300,000
Designed production(t/h)
150
90
45
Raw materials
input amount(t/h)
188
125
65
Actual output(t/h)
160
105
55
Final products
fineness(m2/Kg)
500
500
500
Power consumption
(KWh/t)
26.5
28.5
30
System power
consumption(KWh/t)
35
37
42
Coal consumption
(equivalent to standard
coal)(kg)
17
18
18
Metal recovery of
per ton slag(%)
0.2-0.3
0.2-0.3
0.2-0.3
Production Process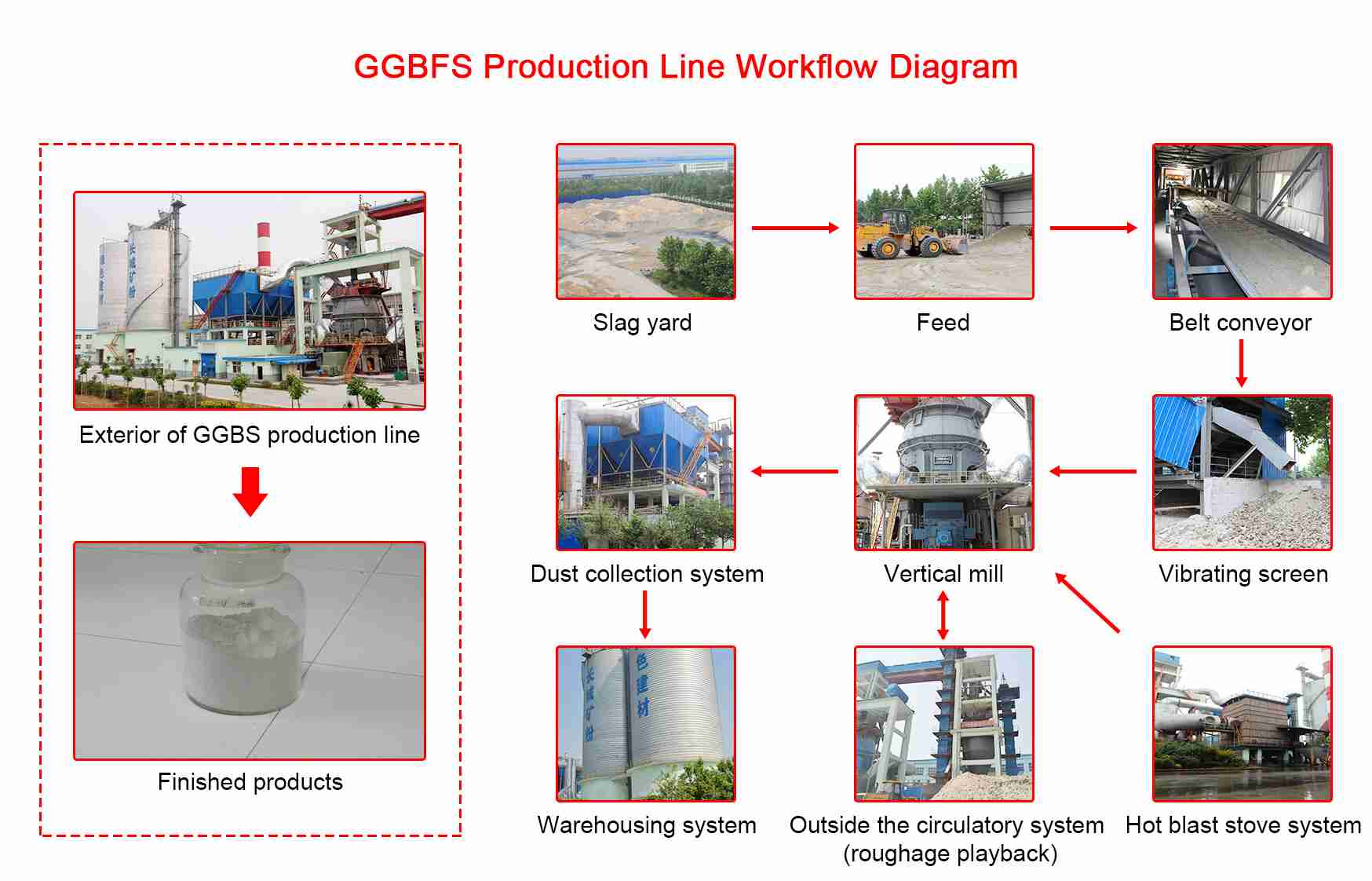 The stacked slag is packed and feed by the forklift trucks, then transported by belt conveyor. During transmission, the slag will pass through the iron separator and vibrating screen, then through the weighing equipment and elevator, finally come into the vertical roller mill. With the hot air form cowper stove, the slag after grinding, will come through the separator, while drying. Slag meets the fineness requirement will pass through the separator, then delivered by air blower and elevator, finally come to the storage silo.
Vertical Roller Mill
Vertical roller mill Introduction
Vertical roller mill is typically designed to deal with industrial waste residue. Due to high physical and chemical activity, and potential hydraulicity, GGBS has been widely as admixture matters in the cement industry to replace the equal cement in the concrete to improve the quality and durability of the concrete.
After almost a decade cooperation with experts on vertical mill manufacturing and scientific research institutes both in home and abroad, the GRM series vertical mills dedicated to be developed and produced by Xinxiang Great Wall Machinery Co., Ltd, have the characteristics of reliable performance, compact structure, convenient maintenance and outstanding energy saving, etc., after incessant perfection. At present, we can produce the supporting raw material vertical mill, coal vertical mill, and cement vertical mill that can cater to 300-5000 t/d cement production line, and the series slag vertical mills with annual production capacity of 0.2 million tons, 0.3 million, 0.45million tons, 0.6 million rons,0.9 million tons and 1.2million tons.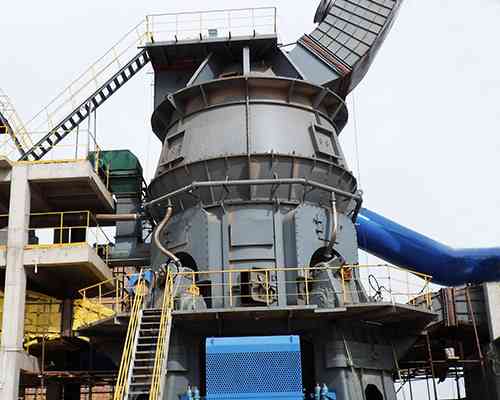 Unique design idea and the characteristics
1.The compound separator improved power selection efficiency.
2.Has automatic function of roller uplifting and down falling and can realize idling startup.
3.Adopt the sealing of jointing arc board, simple and reliable in structure with good sealing effect.
4.Resorting to the roller turning equipment can conveniently turn the roller out of the mill for overhauling.
5.Mechanical limiting structure can avoid the direct metal friction and collision between roller and millstone, increasing the use security.
6.The operation pressure is low in hydraulic pressure system, decreasing the oil leaking failure and vibration of mill, which is conducive to operation and management.
7.Roller bearing adopts the concentrated cycle lubricating of thin oil, guaranteeing the running of bearing under the conditions of low temperature and pure grease and effectively prolonging the longevity of bearing.
Vertical Roller Mill Structure
Below is the structure of the vertical roller mill diagram, which is composed of a separator, roll grinding, grinding, pressure device, reducer, motor, shell and other components. The separator is an important component for ensuring product fineness, it consists of the drive system, rotor, guide vanes, a shell, a coarse powder blanking cone outlet, etc.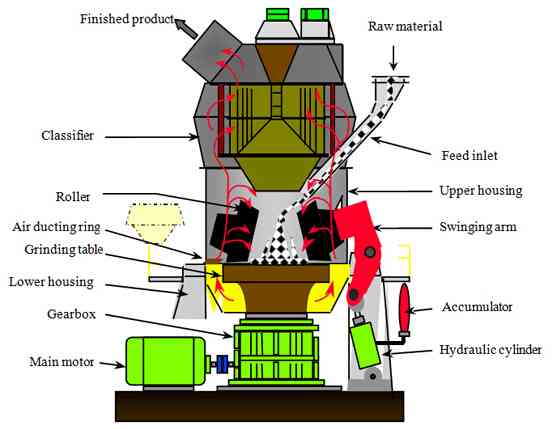 The grinding roller is the main components of compacted crushed to the material, which is composed of the roller sleeve and roll heart, axle and bearing and roller bracket etc.. Each friction has 2 ~ 4 grinding roller.
Grinding disc is fixed on the reducer shaft, driven by the speed reducer rotating disc.
The pressure device is provided an important part of grinding pressure, which is composed of high pressure oil station, a hydraulic cylinder, a pull rod, an energy accumulator and the like, can exert enough pressure to make the material crushing and grinding roller. But the spring pressure device.
Vertical roller mill working principle
The material through the feed tube fell into the center of grinding plate, and then the materials outwards the surrounding area of grinding plate at centrifugal force, to forms a certain thick layer of materials bed, at the same time material was crushed by number of vertical mill rollers.
The materials continuous moving to the outer edge of the grinding plate, off the grinding plate materials rising with the hot air which enter from wind ring into the vertical roller mill, through the vertical roller mill shell into the middle of the separator, in this course materials and hot gas got a fully heat exchange, the water quickly evaporates. Separator controls the finished product output size, greater than the specified size are separated and fall back to the plate, while meet the fineness demands are brought through the separator into the finished product warehouse.
Advantage of GRM
High efficiency and low power consumption in powder milling
The consumption of material is low in unit product
Low noise in material powder milling, operate with negative pressure, low dust pollution
Simple in technology flow, meanwhile finish the function of material powder milling, drying and selection
With easy operation system, saving labor cost.
Low area occupying, compact allocation, light weight in system equipment and low investment in civil construction
About Us
Xinxiang Great Wall Machinery Corporation, located at National Sustainable Development Experiment Area, Mengzhuang Town, Huixian City, Henan Province, China, was initially built in 1958 and restructured into limited liability Company from township collective enterprise in 2002.
Covering an area of 330,000 m2 and having more than 1,100 employees, the company has a total asset of CNY 500 million and has passed ISO9001:2008 quality management system authentication and is a main specialized supplier for manufacturing large scale kiln mill. Possessing the experience of equipment manufacturing for more than half a century, the Company has formed the perfect operation and management system in design and development, product manufacturing, market promotion, equipment installation and after sales service.
Since the first ball mill produced in 1968, the company has produced more than 2600 sets of mills and rotary kilns in various specifications, and the products are sold to each provinces of China, and exported to America, Russia, Japan, Brazil, India, South Korea, Vietnam, Kenya, Iran and others, enjoys high market reputation.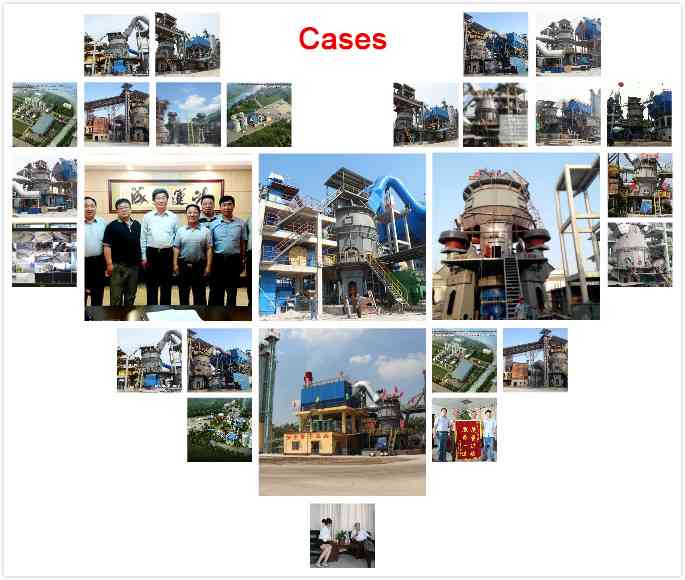 Order Online
Tel:+86-371-55019608
© 2014 Great Wall Machinery Corporation