01 The process of industrial waste treatment is imperative
Recently China gives regulations and fine standards about industrial waste resource: 25RMB per ton for Smelting slag, 30RMB per ton for fly ash, 25RMB per ton for general slag, 5RMB per ton for Gangue waste (and so on) is one-off levied as waste discharging fee by state department, from 1st July. 2013. Therefore, the process of waste treatment, no matter steel slag, mineral slag, nickel slag, manganese slag or others, is gradually valued by more and more companies in this field.
The Utilization chart of mineral and steel slag from 2008-2012 in China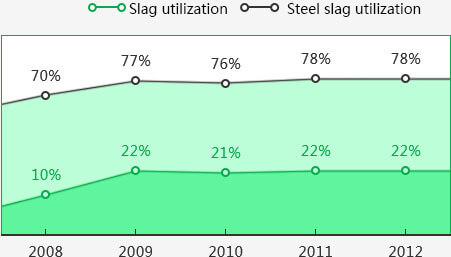 The stock piling chart of industrial waste from 2008-2012 in China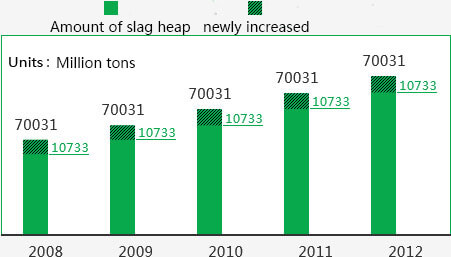 The integrated vertical grinding system, pioneered by Great Wall Machinery, can deal with all the slag mentioned above. It has been tested and verified by more than 60 companies in China, and also benefits millions of money for them.
02 Better ROI(return on investment) rate:
Recover costs in 1-2 years
Take the 600,000 tons per year mineral slag milling production line for example, the economic benefit analysis as follows:
Note: the following data refer to the relevant experimental data in the industry and customer feedbacks.
| | | |
| --- | --- | --- |
| Term | Option 1 | Option 2 |
| Mill type | GRMS46.41 vertical mill | Φ3×11mball mill(Circle flow) |
| Capacity(T/H) | 105 | 19 |
| Power consumption(Kwh/t) | 37 | 75 |
| Specific surface area(㎡/kg) | 430 | 400 |
| Activity index | S95level | S75level |
| Profit(CNY/T) | 360 | 0 |
| Total investment(10 thousands) | 5000(Civil Engineering incl.) | 2000 |
| Technological process | Easy | Complicated |
| Construction period(Months) | 5 | 8 |
| Milling consumption(g/t) | 7 | 300 |
| Noise | Small | Big |
| Earnings cycle | 2Years | More than 3 Years |
To sum up: The grinding process of the Great Wall Machinery is the best choice for the process design and late return. .
03 Mature clients'design:
6 services in one vertical mill
1
Inspection of raw materials
4
Installation and commissioning

04 The advantages of Great wall Machinery
Perfect production process
Mineral slag processing
1

The slag by the car into the factory, the unloading hopper, the belt conveyor into the slag heap storage

2

The final slag fetched by the car into the unloading hopper, the belt conveyor into the slag heap storage after feeding calculation.

3

After drying and grinding process, the slag powder collected by long bag pulse. Then, they will be transferred to stock through air slide and hoist.

4

The split slag is fed to magnetic separator through belts, hoist.

5

The heat resource, during on milling and drying process, is provided by hot blast stove in front of the mill.
Advanced grinding system
Lower investment costs, Intelligent control

Gathering crushing, drying, grinding, selecting, transporting processes as one machine, the grinding system only takes 50% covered area compared with ball mill system. It is compacted layout and also can be installed out-doors. There is PLC/DCS intelligent control system on the mill, and can be easily remote control.

The degree of fineness can be adjusted

The advanced, high efficient and cage-style rotor separator ensures the specific-surface-area adjusting range between 400-550 ㎡/kg, and satisfy the fineness requirement from clients.

Less than 40KWH electrical consumption.

The level milling plate and conical rollers guarantee the material cushion stable enough, which means lower electrical consumption. 30-40% power is saved comparing with ball mill system.

Environmentally friendly and easy maintenance.

There is no dust-leaking because of negative pressure state, which leads the clean working environment and meet national environmental protection requirements. Changing grinding plates and rollers only needs spinning rocker and cylinder, which reduced the shut-down time.
Original accessories

All the roller, grinding plates, rockers and other spare parts are originally manufactured by Great Wall Machinery, which means the quality and timeliness is guaranteed.

360RMB per tone in mineral/metal recycling process.

The rate of pig iron recovery could be as high as 0.2-0.3% by specially designed iron separator. It can produce 360 RMB per tone income when dealing with mineral or nickel slag. Recycling the iron also can reduce the consumption of spare parts on the mill, and as a precaution of metal concentrate, which is harm for the milling system.
05 Quality customers'project
In order to satisfy customers' requirement of total purchase, Great Wall Machinery has integrated the supply chain resources, and put out the slag powder production line EPC project. We provide the turnkey service to customers from the project early stage to final running. Within two years, more than 60 customers choose to cooperate with Great Wall Machinery to build slag powder production line.
Good technology

Within the late 10 years, the company positively cooperate with vertical roller mill experts and scientific research institutions, and develop the high quality, energy saving, low carbon GRM series vertical roller mill.

Short delivery date

As Great Wall has the machining and casting capacity for large equipment, with the quality guarantee, the building period of total vertical roller mill production line can be shorted to 8 months.

Widely customers

Until now, we have more than 100 vertical roller mill customers, especially the slag/steel slag/nickel slag new type vertical roller mills. The customers all feedback good and have high credibility in our products.

Advantages of line

We have invested 50 million to build a 600,000t/a slag powder production line in 2010. This line is the first production line invested by equipment factory. Within 2 years, we have taken back the investment.
| | | | | | |
| --- | --- | --- | --- | --- | --- |
| Model and specifications | diameter of millstoneD(mm) | median diameter of rollerd(mm) | quantity of rollern | standard installed powerP(kW) | standard abilityQ(t/h) |
| GRMS26.21 | 2600 | 1600 | 2 | 1000 | 30 |
| GRMS33.31 | 3300 | 1700 | 3 | 1600 | 45 |
| GRMS35.41 | 3500 | 1800 | 4 | 1800 | 60 |
| GRMS40.41 | 4000 | 1900 | 4 | 2240 | 70 |
| GRMS43.41 | 4300 | 2120 | 4 | 2800 | 90 |
| GRMS46.41 | 4600 | 2240 | 4 | 3150 | 90 |
| GRMS48.41 | 4800 | 2240 | 4 | 3550 | 125 |
| GRMS50.41 | 5000 | 2360 | 4 | 3800 | 140 |
| GRMS53.41 | 5300 | 2500 | 4 | 4200 | 150 |
| GRMS56.41 | 5600 | 2500 | 6 | 5000 | 160 |
Remarks:1.Material medium friction (MF)=0.9-1.0 2.Material moisture max 15% 3.Refined poeder granularity 4200-4500 m²/kg 4.Fine points, moisture0.5-1.0%5.The concrete mill installed power and technology parameter will be adjusted appropriately basing on the actual material property and the requirements of owner