INTERCEM ASIA 2017 will be held in Jakarta Indonesia on September 11-13, 2017. The international cement conference is an influential technological exchange platform in the global cement industry, and also an important trading platform for the cement market in Asia and the world. The theme and subjects of the exhibition concurrent meeting are: alternative raw materials and fuels and related technology case studies, clinker grinding technology analysis, cement production and supply chain management, calcination process research, filtration and dust removal, bypass dust solution, quarrying waste and building materials waste disposal scheme, market analysis of white cement, concrete and related materials, etc..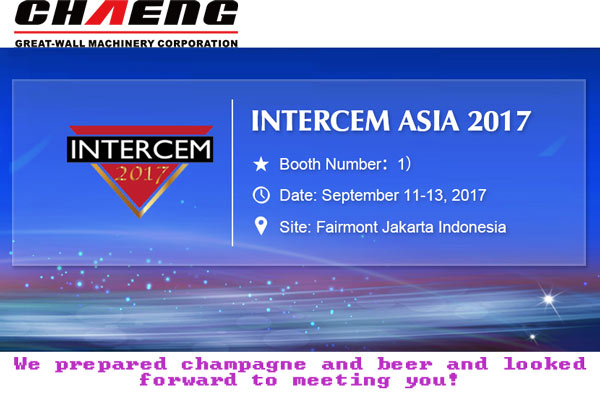 CHAENG (Great Wall Machinery) will attend the exhibition with our energy-saving andenvironment-friendly dry cement production line, energy saving rotary kiln, new GRM series vertical roller mill, ball mill and new technology of grinding industrial waste residue. CHAENG can provide EPC turnkey services for proposal design, equipment manufacturing, installation and smooth operation to meet the customer's comprehensive purchase requirements.
Three main reasons of choosing CHAENG
Cheap and reasonable price
CHAENG (Xinxiang Great Wall Machinery Co., Ltd.) has near 60-year history and experience of manufacturing large cement equipment, and the equipment manufactured by it has high quality with reasonable price and can meet the construction needs of cement production in different scales.
Customized 300-2500TPD complete cement production line
CHAENG can offer you EPC construction service from design and manufacturing to installation, offer you a suitable plan according to your raw materials and fields, and actually make you free from worry.
The equipment is environmental and durable, and can be maintained conveniently
CHAENG can offer you both main equipment and parts to save delivery time and create more wealth for you.