PT.Indoferro 300000t/a nickel slag grinding plant EPC project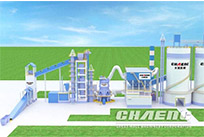 Project introduction: this project was launched by PT.Indoferro for the purpose of disposing the nickel slag produced in steel smelting process, and is the first nickel slag powder production line in Indonesia. This project was built by Xinxiang Great Wall. This project was started in June 2016 and finished and went into operation in November 2016, the output of a single mill per hour is 50t with the specific surface area of 450㎡/kg, and all parameters reach the designed requirements. The demand of the nickel slag powder produced by this project exceeds the supply, so the client praise Xinxiang Great Wall for its high-quality equipment, advanced technology and good construction.
PT.Indoferro 300000t/a nickel slag grinding plant EPC project
Raw material: nickel slag
Main equipment configuration: GRMS33.31 slag vertical mill
Production time: November 2016
Founded in 1958 and located in Xinxiang, Henan province, CHAENG has 60-year experience in equipment manufacturing with an area of 330,000 m2 and 1 billion RMB of annual production value. The company is specialized in manufacturing all kinds of ball mills, rotary kilns, vertical mills, large steel castings. And we can undertake the EPC projects of cement production line, quick lime production line, blast furnace slag/ steel slag/ nickel slag grinding plants. Its products are sold to more than 50 countries and regions in Southeast Asia, Central Asia, South Asia, North America, South America and Europe.
Our long-term strategic partners: Arcelor Mittal, Tata Group, Pohang Iron and Steel Company, Germany CCE, Japan Chiba , Shanghai Baosteel,Voestalpine and ASGT, etc.