I. Solution
Cement Plant Process Plan Drawing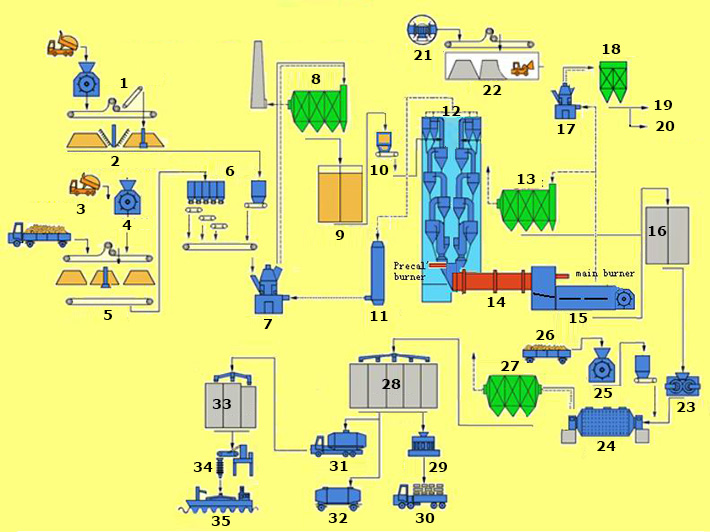 1. Limestone Crusher
2. Limestone Pre-Homogenization Yard
3. Cement Additive Entering the Factory
4. Crusher
5. Cement Additive Storage Yard
6. Batch Metering
7. Ball Mill for Cement Raw Material
8. Dust Collection
9. Cement Raw Material Homogenization Silo
10. Feedstock Metering
11. Humidifier Tower
12. Pre-heater
13. Electrostatic Precipitation
14. Rotary Kiln
15. Cooler
16. Cement Clinker Silo
17. Ball Mill for Coal
18. Coal Dust Collection
19. Going to the Rotary Kiln
20. Going to the Pre-Calciner
21. Raw Coal Entering the Factory
22. Coal Storage Yard
23. Vertical Roller Mill
24. Ball Mill for Cement Clinker
25. Crushing
26. Gypsum Entering the Factory
27. Cement Dust Collection
28. Cement Silo
29. Cement Packer
30. Bagged Cement Transported by Car
31. Bulk Cement Transported by Car
32. Bulk Cement Transported by Train
33. Silo at the Port
34. Ship-loader
35. Bulk Cement Transported by Ship
II. Equipment
Vertical Slag Mill
Coal Vertical Mill
Rotary Kiln
Cement Vertical Mill
III. Advantages
1. Worldwide Service and Mature Solution
As a global supplier of grinding system, CHAENG are experienced in the product design, process control and energy efficiency management. We are confident to provide a high quality, integrated grinding solutions for the customer of cement industries.
Not only is your need on the production satisfied, but you also get a good answer on the problem of project maintenance. Choosing us as your contactor means you can save more your time on the core business to realize the great business goals.
2. PC42.5 Cement with specific surface area of 3800cm²/g
Improvements in cement manufacturing process allow our vertical roller mill to produce fine powered cement that meets higher quality standards. The PC42.5 cement produced by our mill has a specific surface area up to 3800 cm²/g. Buying our vertical roller mill in place of a traditional ball mill means you are to produce finished goods that are reliable in your eyes.
3. 30% Energy Savings and 10% Improvements in Production Ability
Advanced process control and energy management methods allow our vertical roller mill to use 30% less electricity than an ordinary ball mill. For each ton of powdered cement produced, our mill consumes as little as 25-30kwh of electricity. Additionally, improvements in our production techniques enable us to improve the cement production ability of our mill by more than 10%.
4. Reduced Manual Labor and Enhanced Process Stability
No manual operation is needed during grinding process. Automatic control mode ensures high grinding stability, precision, and efficiency.
5. Dust Concentration Less than 1 mg/m³ and Noise Level around 80dB
Negative pressure system is utilized to reduce the chances of dust escaping outside the cement vertical roller mill, resulting in dust concentration less than 1 mg/m³ in the surrounding atmosphere. This assure the DUST EMISSION conform to the "Emission Standard of Air Pollutants for Cement Industry" (GB4915-2004); the NOISE CONTROL conform to the "Emission standard for industrial enterprises noise at boundary" (GB12348-2008).
It is a project that is about energy saving, integrated resources utilization. A project that in line with the National Industrial Policy, fully promoted and supported by the government in the recent years. Ever since it is put to use, each set of equipment on the production line has demonstrated good stability and high processing ability.
Benefits
1. It generally takes 1 to 3 years for your new production equipment to pay for itself.
2. With the new equipment, you can produce 55~250 tons of cement per hour.
3. 20% shortened deliver cycle means more time savings.